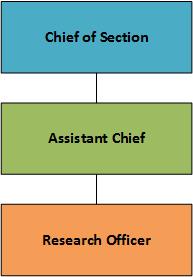 Description
Section Portfolio
Sub-Office at Islamabad
FORMULATION OF DRAFT PSDP
Coordination with concerned Line Department of Khyber Pakhtunkhwa for submission of projects for preparation of Public Sector Development Program (PSDP) for the forthcoming financial year.
Sharing of Planning Commission, Islamabad guidelines with different Departments of KP for the future projections of PSDP projects.
Ensuring timely Preparation and Submission of PC-1s of PSDP schemes for clearance of PDWP and its approval from respective Federal Ministries and CDWP/ECNEC
Liaison with the Federal Government for inclusion of approved schemes in PSDP.
CDWP MEETINGS
Attending CDWP meetings on regular basis.
Coordination with different sections and High-ups of the P&D Department, KP for ensuring their availability during the meeting
PSDP REVIEW MEETINGS
Review meetings with the concerned line departments and Federal Entities regarding Provincially executed and Federally executed KP-related PSDP schemes.
Quarterly Review Meetings with Planning Commission, Islamabad
Special review meetings Chaired by the Honorable Chief Minister, Khyber Pakhtunkhwa
FINANCIAL MANAGEMENT OF PSDP PROJECTS
Coordination with Federal Government regarding allocation of funds and its timely release
Authorization of funds from Federal Government
Demand request to Finance Department, KP for early release of funds for smooth execution of PSDP Projects in KP
Re-Appropriation of funds from Federal Government
Arrangement of Supplementary Grant from Federal Government for KP Projects.
Request to concerned Federal Ministries for enhancement of allocation in respect of important nature and fast-moving projects.
Excess / Surrender with provincial Finance Department and Federal Government.
ANNUAL PLAN
Preparation of Annual plan (KP Chapter)
APCC / NEC MEETINGS
Comments on working paper of APCC and NEC Meetings.
DIRECTIVES
PM Directives
CM Directives
Any other special task assigned by the competent Authority
Various directions received from public representatives.
Public Sector Development Programme
Merged Areas Affairs
China-Pakistan Economic Corridor (CPEC) Affairs
To share the workload and expedite the pace of work on various important megaprojects, the Competent Authority has desired to establish a sub-office at Islamabad in order to keep close liaison between the Provincial Government, Federal Entities and Ministry of Planning Development and Special Initiatives.