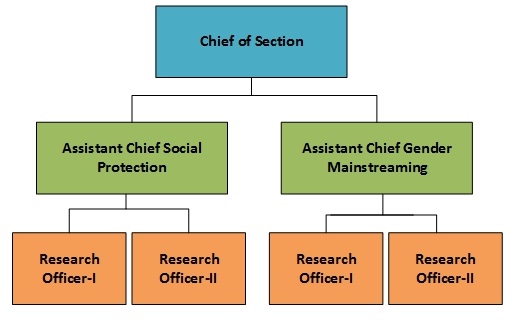 Description
Section Portfolio
Publications
To provide a centralized coordication platform at provincial level for information, planning and strategic allocation of resources.
To review development projects and plans of all provincial departments and evaluate schemes relating to SP&GM
Mapping of the service providing institutions arrangements currently in place for the purpose, throughout KP and specific roles of these institutions.
Management of information regarding social protection and gender.

To inform strategic policy formulation and short & long term planning across the provincial departments.

To coordinate the efforts made at provincial and federal levels, maximizing the result through developing and promoting synergies and develop communication strategy for proper projection of the major achievement.
To inform, train and educate the official staff across the government departments, directly involved in planning and policy-making processes.
To promote and facilitate research in the areas of Social Protection and Gender (e.g in collaboration with universities and public & private research institutes)
To find out the best practices in the social sector across the country and internationally, and to suggest innovative, high-impact and economic projects.
To suggest informed and appropriate interventions in the existing projects for maximizing outputs.
Social Welfare
Auqaf, Hajj, Religious & Minority Affairs