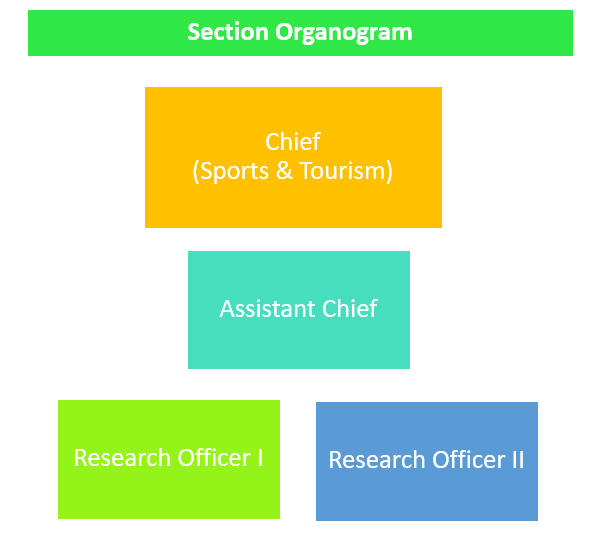 Introduction
Section Portfolio
Sports & Youth Affairs Sector
Tourism Sector
Monitoring
Criteria
Significance
The Sports & Tourism Section functions encompass a wide array of activities, all designed to foster the growth and development of the Sports & Tourism sectors comprehensively. These activities include:
Development of Proposals and Concept Designs: The Section actively engages in crafting proposals and concept designs to assist line departments in the creation of new schemes and facilitation in other development initiatives. This involves thorough planning and design to ensure the successful implementation of initiatives.
Annual Development Programs (ADP) for Sports & Tourism: The formulation of the Annual Development Programs for the Sports & Tourism sectors is a crucial aspect of the department's responsibilities. These programs outline the strategic goals, budget allocations, and development priorities for the sectors.
Development of Policies and Policy-related Matters: The Section plays a pivotal role in developing policies and addressing policy-related matters pertaining to the Sports and tourism sectors. This includes policy formulation, revisions, and ensuring alignment with broader government and P&D Department objectives.
Appraisal of Foreign-Aided and Federal Government Projects: Rigorous appraisal of foreign-aided and Federal Government projects is undertaken to assess their viability, impact, and alignment with provincial goals and objectives.
Preparation of Briefs and Examination of Summaries: The Sports & Tourism prepares comprehensive briefs for various high-level meetings and reviews, including those for the Provincial Development Program (PSDP), National Economic Council (NEC), and Executive Committee of the National Economic Council (ECNEC). It also examines summaries presented to the Chief Minister of Khyber Pakhtunkhwa.
Development of Working Papers: Working papers are meticulously crafted for the Provincial Development Working Party (PDWP), District Development Working Party (DDWP), and annual review meetings specific to the Sports & Tourism Sectors. These documents serve as the foundation for project evaluations and decisions.
Review Meetings: A multitude of review meetings are conducted, including quarterly reviews, mid-year reviews, annual reviews, and periodic/specialized reviews chaired by the Chief Minister and Chief Secretary of Khyber Pakhtunkhwa, as well as committees led by the Governor and the Finance Minister.
Re-appropriations (Inter-Sectorial Re-appropriation): The Section also manages re-appropriations, facilitating the reallocation of resources between sectors as needed to ensure efficient resource utilization and alignment with changing priorities. These actions are aimed at achieving the most effective and impactful outcomes within the Sports & Tourism sectors.
MANDATE & POLICY
To ensure and align Sports & Youth Affairs Sector Plan initiatives as per Agenda 2030 (SDG-11) for Standardization of Sports: Establishing institutional mechanisms to ensure the standardization of sports activities and facilities across the province, with a focus on achieving high-quality athletic outcomes.
Provincial Access to Sports: Ensuring the access to sports opportunities for individuals of all ages, fostering inclusivity and participation in physical activities (SDG-11).
Promoting Gender Equality in Sports: Addressing gender disparities in the realm of sports by actively promoting gender equality, affirmative action, and the empowerment of female athletes, thereby contributing to SDG-11's objectives.
Enhanced Sports Infrastructure: Elevating the quality of sports infrastructure and creating environments that are conducive to the pursuit of athletic endeavors, in alignment with the infrastructure goals of SDG-11.
Private Sector Engagement in Sports Education: Encouraging private sector participation in sports education through Public-Private Partnerships (PPP), offering incentives for investments, and implementing a rigorous standardization enforcement regime, all of which are integral to the realization of SDG-11.
At the Sports & Tourism Section, P&D Department level, our commitment to advancing tourism is underscored by the following core objectives, aligning with Sustainable Development Goals 8 (Decent Work and Economic Growth), 12 (Responsible Consumption and Production), and 14 (Life Below Water):
Institutional Mechanisms for Tourism Excellence: The Section is dedicated to establishing robust institutional mechanisms that ensure the standardization of tourism activities and services across Khyber Pakhtunkhwa. Our primary goal is to develop, create and provide opportunities to visitors/ tourists with exceptional and consistent tourism experiences while fostering economic growth and job creation (SDG-8).
Inclusive Tourism Access for All. The Tourism Section is committed to promoting universal access to tourism opportunities, regardless of one's background or age. Our aim is to foster inclusivity and active participation in tourism-related activities, contributing to responsible consumption patterns and sustainable economic growth (SDG-12).
Gender Equality in Provincial Tourism: Recognizing the significance of addressing gender disparities in our provincial tourism sector, we actively promote gender equality by implementing affirmative actions and empowering women in all aspects of tourism. This commitment contributes significantly to the gender equality objectives, economic growth, and decent work opportunities (SDG-8).
Enhanced Tourism Infrastructure: Our province is dedicated to the continuous improvement of tourism infrastructure, ensuring that we offer world-class facilities and environments conducive to providing memorable and sustainable tourism experiences. This commitment aligns seamlessly with responsible consumption and production, as well as sustainable economic growth (SDG-12).
Private Sector Engagement in Provincial Tourism: To bolster the growth and development of tourism within our province, we enthusiastically encourage private sector participation in tourism initiatives through Public-Private Partnerships (PPP). By offering attractive incentives for investments and establishing a stringent standardization enforcement regime, we aim to catalyze private sector involvement. This engagement directly contributes to our goals of economic growth, responsible consumption, and life below water conservation (SDGs 8, 12, and 14).
Fund allocation, Disbursement, and Utilization include the process of budget allocation for various projects, the release of funds as required, and the proper utilization of allocated funds in accordance with budgetary and Planning and development Department guidelines.
Adherence to Project Timelines in Terms of Physical Progress involves monitoring and ensuring that projects are progressing according to the predefined schedules and achieving the financial & physical milestones set for them.
Workforce and Equipment Provision This encompasses the allocation and availability of the necessary funds for personnel and equipment required to execute and complete projects effectively and efficiently.
Identification of Projects with Slow Progress during Initial Review involves the identification and assessment of projects that are progressing at a slower pace than expected during the initial review stages. This may also include conducting root cause analysis for delays.
Directives and Communications This refers to any instructions, guidance, or directives received from higher-ranking authorities or superiors, which may impact project planning or execution.
Citizen Feedback and Grievances pertain to feedback and complaints received from the public or stakeholders regarding ongoing projects, their concerns, and any issues that need to be addressed.
Documentation and Observations This involves the systematic recording and documentation of all relevant project-related information, including observations made during inspections, reviews, and audits. This documentation ensures transparency and accountability in project management.
Impartial and Random Selection of high-cost projects exceeding Rs. 200 million or more in the PSDP/ADP for the approval of PDWP forum.
All revised projects have made significant progress in both physical and financial aspects.
Projects financed by external donors.
All Annual Development Plan (ADP) schemes within the merged districts.
Projects that have been revised or completed and have demonstrated substantial physical and financial progress.
Projects under dispute. Continuing projects or special initiatives such as the TB Program.
Projects that have been referred from higher authorities.
Numerous sports and tourism developmental initiatives undergo Sports & Tourism Section for necessary improvements.
Deficiencies are promptly communicated to facilitate corrective actions.
We prioritize expediting progress to ensure these initiatives are completed on schedule.
Regular intimation prompted heightened vigilance among line departments.
We have sensitized expertise regarding the importance of Key Performance Indicators (KPIs).
We guarantee the efficient utilization of resources at every level.
Our commitment to course correction, maximizing value for money, and providing evidence for policymakers is unwavering.